Wilson Industries

About

Base of Operations
Soloris City, Soloris
Leader(s)
Jon Wilson

James Hunter

Members
-
Enemies
Star Gang
Type
Everything Company
Wilson Industries is a company founded by the great great great grandfather of Terri Wilson, and is now led by Jon Wilson, her father. She is the heiress.
Wilson Technologies
Edit
Wilson Technologies is the biggest single branch underneath the Wilson Industries umbrella of companies. It has always been there but only in the 1980's did it start to skyrocket as more and more innovations were made and new things were discovered. As alien invasions and involvement have become more commonplace, Wilson Tech has acquired alien technology and used it for research & development. This has boosted Wilson Tech's technology and science levels. Some of Wilson Technologies' research into alien technology has contributed to large advances in medicine, cybernetics, pharmaceuticals and avionics.
Wilson Hospital
Edit
Wilson Hospital is the company mostly responsible for the Soloris' healthcare system. The company itself is a facility for researching and developing new and better medical procedures and systems. The company trains and teaches a huge amount of people annually.
Wilson Shipping
Edit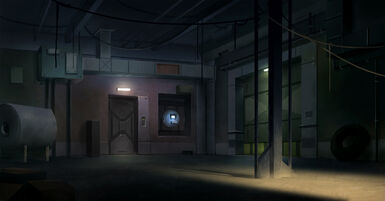 Wilson Shipping is the second oldest branch of Wilson Enterprises and in many ways one of the most successful ones. For over a century Wilson Shipping has been the market leader and the leading player in shipping lines, especially in Trans-Oceanic routes. The company owns dozens of freighters which are usually booked solid. Wilson Shipping usually handles three and a half billion tons of freight each month.
Wilson Foundation
Edit
The Wilson Foundation is a group of different foundations working under one umbrella. The Wilson Foundation proper funds scientific research and helps people with research by providing facilities and training. The only cost of this assistance is that Wilson Industries reserves the right to veto selling the patent or letting the patent be used.
The Laura Wilson Foundation is a foundation for medicine and medical help.
The Terri Wilson Foundation is a patron and supporter of arts, families, education and tolerance. The foundation supports and helps to run a number of orphanages and free schools, and provides teachers for those who have learning difficulties. Artists can apply for grants from the foundation to help support them in furthering the arts.
The Jon Wilson Foundation is a foundation through the Wilson Foundation and the organizations underneath, Terri has a very large network of connections in the world of charities. She finds out about the newest trends and newest arts, but at the same time, she has taps into the streets through the soup kitchens and social services groups.
Wilson Industries
Edit
Wayne Industries is a research and development company for all things industrial -- from heavy machines to engines to motors, pneumatic systems and large scale systems. The company studies, researches and develops cleaner, mechanical fission and fusion power plants.
Wilson Electronics
Edit
Wilson Electronics has recently become a major player in home and personal computing. Wilson Electronics is a large consortium that manufactures almost anything from portable radios to stereo and Wi-Fi systems, movie cameras, cameras and electronics, measuring devices, scanners, surveillance equipment, computers and other electronics devices. Wilson Electronics is one of the top selling brand names in electronics, from multimedia to precision systems. Its other branches of business include information technology, wired networks, wireless networks and space exploration systems and satellites.
Wilson Entertainment
Edit
Wilson Entertainment is in many ways continuously finding new areas in entertainment to create a niche for itself. The company provides a large number of contacts and information, and of course it is a nice way to provide an alibi as Terri Wilson goes to meet with an actor.
Wilson Foods
Edit
Wilson Foods is a little known subsidiary of Wilson Industries as it is a fledgling company. It runs quite a few farms and cattle ranches in the Ruralis area of Soloris, as well as importing beef from Crescent Dale and other countries.
Community content is available under
CC-BY-SA
unless otherwise noted.